Mobile Height Adjustable CPU Cart
Sale price
$95.99
Regular price
$149.99
​A true productivity boost for gamers and the office! Experience easy mobility and improved airflow with our Mobile CPU Cart. This versatile two-tier design is compatible with a wide range of computer cases, including full-tower ATX cases. The top of the cart is perfect for parking your printer, while the bottom holds your PC tower. Manually height-adjustable from 23 1/4'' to 33 1/4".
Features
Specification
Shipping
Returns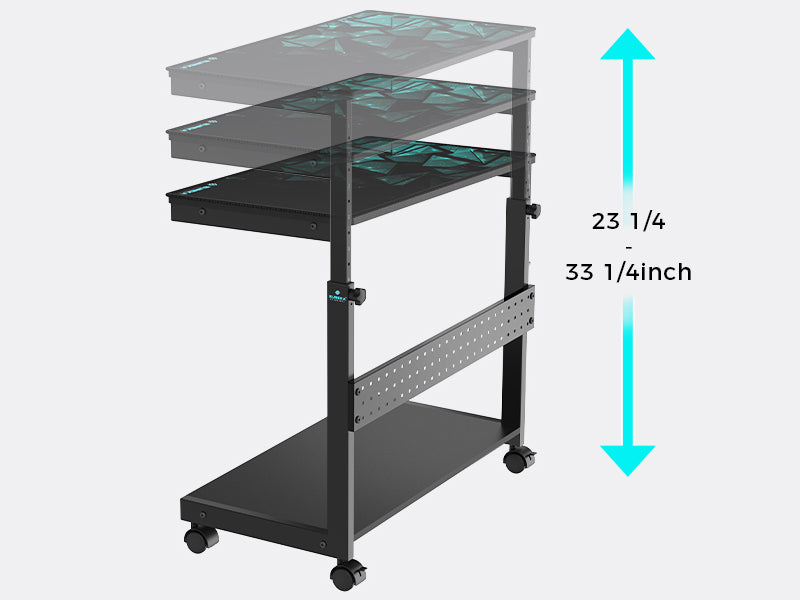 Height Adjustable Computer Tower Stand
Multi-fuctional Design Creats More Possibilities
Eureka Ergonomic computer tower stand is designed to support most computer towers, perfect for full-tower computer cases. Height adjustable from 23.3 inches to 33.3 inches so that the PC stand can be placed under desk or next to table.
CPU stand features smooth movement in home and office even when fully loaded, while dual casters with brakes hold the stand firmly in place for stable performance.
Multi-functional Pegboard

Mute Rolling Caster with Brake
Love this cart I actually use it to put my PC on top of it so it can be same height as my desk to showcase my build with see through glass on my case and all the components in it. Nice and sturdy even with computer up top. Also have used it to build a couple computers on which was nice to be able to roll it around and sit in my computer chair to be comfortable while putting a few diff computers together
It's good for what it is, but it could've been better.
I bought this to pair with the Eureka Aero 72 desk, the non standing version, as a spot to put my PC tower and power strip. I was hoping this would pair well with the desk and kinda does for the most part. Most of the cons are my own fault, but they're still cons, so let's get into it.
Pros
1. Super easy to assemble. I did it solo in about 30 minutes, but with another person, you can do it in 20.
2. Wheels are a nice touch. It rolls with no problem over carpet while having stuff on it.
3. The mousepad is also a nice touch, and matches the black/teal aesthetic of the Aero 72 desk that Eureka also sells.
4. The little trays on the back are a nice touch.
5. It's big enough for any mid tower PC case I can think of, and probably many full size towers too.
6. Adjustable top is also a nice touch.
7. Of all the PC tower carts I looked at, this one has the highest weight rating. Well done, Eureka.
8. Easy to use and clean.
9. When the PC tower is on the bottom shelf, it's very sturdy and there's no wobble.
Neutral
1. The adjustability is nice, but it can't match the height of the Aero 72 desk. It'll be slightly lower or slightly higher. Oh well.
Cons
1. The desktop can fit on top, and the top is rated for 66lbs, which is less than 99% of PC towers. However, at least on carpet, it wobbles a lot of you do this. The higher center of gravity also makes it feel like it's going to tip over. I would've loved to put my tower on top so I could actually see it. My fault for wrong expectations, but some optional vertical supports for the other side would've helped with stability, and maybe another bottom set other than wheels to stabilize the cart on carpet would've been nice, especially since...
2. ...my goodness this thing is expensive. Over $100 for some metal, 4 wheels, two baskets, and a mousepad? C'mon Eureka, you know the profit margins on this thing are insane. I appreciate the higher specs than your other competitors, but the other competitors are less than half the price most of the time. Could've added some extra vertical supports and feet pads instead of wheels so we can add some stability and use the top shelf for a PC tower.
Anyway, other than that gripe, the cart is otherwise nice. I use the top for my power strip, a spot to stash my laptop when I'm not using it on my desk, and as a spot to stash my accent lighting remotes and other baubles that I don't want cluttering my desk.
Don't get me wrong. It's a nice cart, a very solid 4 stars... but it was 6 pieces of metal/plastic away from being the very best possible product in its category and that fact, combined with its very high price tag, adds an element of disappointment to the purchase, hence 1 star off.
As it is, you basically have to put the PC tower on the bottom and whatever else on top. If you don't mind that, or don't mind the wobble with the PC tower on top, this is a great PC tower cart.
Thank you for your comprehensive feedback! We truly appreciate your detailed insights into the strengths and areas where our product can be enhanced. Your suggestions regarding stability and pricing are incredibly valuable, and we'll take them into serious consideration for future improvements. We're delighted to hear that despite the noted cons, the cart has been beneficial for your workspace organization. If you have any further thoughts or suggestions, we'd love to hear them. Thank you again for choosing our product!
Mobile 1
The cart was easy to assemble, can accessorize with any desk. Great product.
Thank you for your positive feedback! We're delighted to hear that the cart was easy to assemble and complements any desk. We appreciate your support!
Desk for Desktops
Simple and to the point. This table has what you need when you need mobility for your desktop. The construction is sturdy, solid frames, and has adjustable height for most sizes for your desktop set-up. Grab it. You'll like it.
Great Computer stand.
This stand is very well-made and sturdy. My only issue is that it was scratched on the base in shipping. I would purchase it again.
Thanks for the feedback! Glad you find it sturdy. Apologies for the scratch; we'll make sure to improve shipping. We appreciate your support.
Choosing a selection results in a full page refresh.