Dual Monitor Arm
Sale price
$104.99
Regular price
$139.99
Our fully adjustable Dual Monitor Arm featuring a 3-section extended design is ideal for gaming desks or computer office setups.
Features
Specification
Returns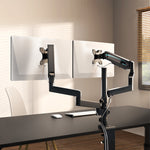 Sale price
$104.99
Regular price
$139.99
Black
UPGRADE YOUR GAMING SETUP WITH EUREKA
Find the most relaxing way to play!
Longer Arm Reach MAX EXTENSION 27.3"
SWIVEL ± 90°

ROTATE ± 90°

TILT ± 45°
Will This Stand Fit with Your Monitor?
Max 32Inch

Load Bearing

75x75/100x100mm

4

Check Desktop Thickness

0.39"-2.95" Thick
User-Friendly Installation
1

Install Base & Pole through clamp or grommet

2

Screw arm on comfy pole height

3

Attach VESA plate to monitor

Monitor faces down?

Adjust to comfy angle & tighten bolt

Monitor raises up or drops down?

Turn to "-" or "+" to adjust tension of gas spring
UPGRADE YOUR WORK STYLE WITH THE EUREKA 3-SECTION MONITOR ARM
Make your work efficient.
Wish it was a little stronger
It's just barley strong enough to hold my Alienware Curved (AW3418DW). So I am always afraid to move it around and have to spend 10 mins readjusting it. But overall, it's good.
Thank you for your feedback once again, Russ! We appreciate your input and are sorry to hear about the concern with the stability of the desk in holding your monitor. Your experience matters, and we'll definitely take this into account for future improvements. We're glad to know that overall, you find the desk satisfactory.
Works as expected and looks great
I'm using it with the EGD-L60, Standing Desk and very happy with the combo
Easily holds my 15lbs ultrawide...
This dual monitor stand comes in a big, plain cardboard box and inside you'll find everything you need to set up two monitors.
The box has a fair bit of weight to it as these arms are quite hefty as they can hold up to 17.6lbs. Everything feels well built and very strong which it would need to be to hold two monitors on the pole. The desk mount itself is adjustable so can be fixed to a thin table and can then be adjusted to fit a thicker desk if needed. The main pole is attached to the desk mount with three screws which have to be screwed in before your mount the desk mount to your desk. Once attached to your desk, there is a shiny piece of plastic that goes over it to give it more of a finished look. There is also an attachment in the box for if you already have a grommet in your desk and you can mount it through the hole instead of using the clamp.
The arms are held in their closed position with a cable tie and a big warning label saying that they are under compression and will spring open when you remove the cable tie. I had my wife snip the cable tie while I held an arm together and it wasn't as strong as I was expecting so you don't have to be a body builder to be able to unpack them. Once undone, you need to slide and arm down over the pole. There is a plastic insert inside the hole so make sure it stays inside or you won't be able to tighten it on the pole, I found out the hard way. If it does come out, just push it back in. Fasten it at the desired height using the included Allen key and your arm is good to go.
There are two VESA mounts in the box so you should have one to fit your screen. There are also two bags of different sized screws and washers which are used to attach the VESA mount to your panel. I had to use the thick plastic washers as I have a curved ultrawide monitor. These went behind the VESA mount between it and the panel to raise the VESA mount further away from my screen as I couldn't slide it on the arm without it, as the VESA mount was too deep within my panel. You then slide the VESA mount onto the arm mount and secure it in place with a thumb screw.
The weight of my monitor is 15.26lbs, 6.92kgs, and my monitor started to sag as the arm couldn't hold it up. There is an adjustment screw on the top of the arm section closest to the panel and I needed to adjust it to take the weight of my monitor. Once set, it nicely held my screen in position with no issue. The weight of my monitor is close to the maximum that this arm can lift but it's doing it well with no signs that it's straining under the weight. I did think the mount was a little off but once the screen is on it, it can be rotated so your screen sits level.
There is quite a bit of manoeuvrability with the arm as you can move it in, out and tilt up and down along with rotating the screen from side to side. Height is adjusted by the clamp on the pole so you will need someone to hold the screen while you loosen it and raise it up the pole. There is a nice piece of plastic that you can slip onto the pole, and this holds both of the Allen keys that came in the box, so they are at hand if you need to adjust the arms at any point.
I'm enjoying the range of movement you get with these. You do have to faff about a bit to get the bolts at the right tension to easily move them around but also tight enough to hold the weight of your screen. Easily the best monitor mount I've used with an added bonus of holding two panels on one pole. The monitor is a little wobbly whenever you press the power button, but it is to be expected with such a long arm and it sits perfectly still when you don't touch it. If you have an environment where the desk is wobbly or is constantly knocked, then this might not be for you as the screen will constantly be bouncing about. The price is quite competitive too for a gas arm mount and in this, you get two…
Top quality
This is such a well designed and well made piece of equipment.
It holds the weight of both my monitors with ease and it was so easy to secure them to this and set the whole thing up.
Now they are attached, the monitors are so easy to move around and the gas springs really make this a top quality stand.
This is by far the best one I have used.
Well Made and Easy to Set Up
Previously, I used a standard monitor mount which just used hinges and nuts to bend the monitors into place. Changing to this mount was a huge upgrade.
Setting it up was easy, you just clamp it to the back of your desk and attach your monitors using the VESA mounts. This way of mounting is great as you don't need to drill holes in your desk and the mount takes up very little space on your desk.
The gas spring makes moving your monitors into place much easier. You can almost effortlessly move the monitor to where you want it and it pretty much stays exactly there. This is very handy if you find yourself moving your monitor around often. I would definitely recommend.
Choosing a selection results in a full page refresh.