47'' /55'' Two-Drawer Electric Standing Desk, Wood Finish
Sale price
$499.99
Regular price
$899.99
Revitalize your home office with the Electric Standing Desk — a modern design that blends style and functionality. This intelligent sit-stand desk, featuring an elegant wood finish, not only elevates the visual appeal of your workspace but also introduces a contemporary flair to your work-from-home setup.
Features
Specification
Shipping
Returns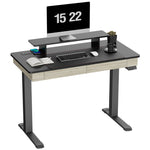 Sale price
$499.99
Regular price
$899.99
Oak / 47"
Update your home office setup with the 47" Electric Standing Desk, Gray. The smart sit stand desk with a sleek wood finish completes your home office setup.
Height Adjustable Home Office Desk
Improve your health and productivity with a standing desk. Versatile height range from 29" - 48" to accommodate a wide range of people and uses.
Versatile Standing Desk Features
Easily raise and lower the desk with one click. Two programmable memory presets let you save your seated and standing heights. Built-in USB ports keep your devices charged and within close reach.
Built-In Storage Drawers
Two pull-out drawers with soft-close sliders let you store files, accessories, and other supplies. Designed to provide maximum storage without interfering with legroom.
Integrated Charging Station
Power strip built into the desk surface is easy to access and lets you keep all your devices charged.
·Two standard outlets
·Two USB charging ports
·10W Qi Wireless Charger
Ergonomic Monitor Stand
Raise your monitor with the included monitor riser for reduced neck strain, a healthier sitting position, and additional storage space.
Large monitor riser measures 33 1/2"x7 5/8", enough space for dual monitor setups.
Cable Management and Tools Included
All the essentials to build and organize your setup!
·78" Roll velcro cable strap
·6 Adhesive cable ties
·5 Magnetic cable ties
·Screwdriver and allen wrenches
Great deal!
I got this desk relatively fast. I was able to assemble in a good amount of time using the instructions which weren't to confusing. Overall it's a good desk and I think more people should buy it!
Love it!
Amazing desk, took 2hrs to assemble and it was pretty straightforward. Have been using it for a week and feel great standing up more than sitting.
We're thrilled to hear that you're enjoying your new desk,
The fact that you're feeling great about standing more than sitting is fantastic news. A sit-stand desk can indeed make a significant difference in promoting a healthier and more active work routine. Thank you for choosing our desk, and we hope it continues to enhance your work and well-being!
Great Adjustable Desk
I've been looking for an adjustable desk for awhile and came upon this one. Very pleased with my choice. The quality is good and it's seems to be pretty sturdy. Had no issues setting it up. It took a couple hours. Would recommend this desk to others.
Hi Bev, thank you for taking the time to share your positive experience. It's great to know that you found the quality to be good and that the desk seems sturdy.
Your recommendation means a lot to us, and we're glad that you would suggest our desk to others. Enjoy!
Great, affordable, no compromises required
Recently bought the ED desk and have really loved it. The materials feel high quality, the desk is a great size, and the motors are quick and silent.
Setup took me about 2-3 hours but was really not complicated. Eureka even included a free desk mat and some cable management accessories.
The best part is this desk has every feature, meaning you can have everything you want without needing to compromise. Some features I'd considered such as built in power strip, drawers, dual motor, preset profiles, room for monitor arms, cable management trays, the price, and the size we're literally all included here. It's a great desk, definitely recommend!
Thanks for the feedback, Roger! It's wonderful to know that our desk includes all the features you were looking for, making it a perfect fit for your needs without any compromises. Thank you for recommending our desk, and we hope it continues to enhance your work environment and provide everything you need for a comfortable and efficient workspace!
Choosing a selection results in a full page refresh.